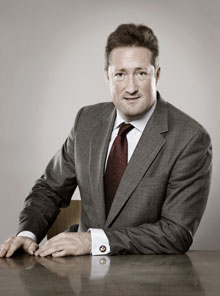 Partner (born 1965)
Education: LLM at Lund University. Studies at University of California, Santa Barbara.
Earlier and current activities:
Clerking at the administrative county court in Kristianstad.
Member of the Swedish Bar Association 1999-2009.
Employed at the firm since 1995.
Languages except Swedish: English, French and Spanish.
Speciality etc: Has a solid background in sports as a player, coach, referee and member of the board in handball, golf, tennis and basketball and works primarily with sports related law. Represents individual clients in sports such as soccer, ice-hockey, handball, basketball and alpine skiing. Represents the clients primarily in contract negotiations but also in sports related disputes in courts and arbitration proceedings. Works also with labour law, business law, family law and financial damages.
Contact
Office: Adolf Fredriks Kyrkogata 13, 111 37 STOCKHOLM
Telephone: 0046-8–21 54 48
Mobile: 0046-70-524 23 87
Fax: 0046-8–21 54 42
E-mail: martin.klette@wagnsson.com